Renal Dialysis Stations Medical Trunking.
Specifically developed for RO system pipework and waste disposal where vertical solutions are preferred.
These systems are broadly recognised as the leading types of vertical containment solutions for RO water systems in the UK market and meet the intent of UK HBN 53 and the requirements of ISO 11197.
Offering a composite solution to bedhead services provision in Dialysis or Renal Dialysis areas where both the clinical efficiency of the environment and its aesthetics are important to users and patients alike, RO-V has evolved through ongoing dialogue with RO water system providers, users and specifiers. The use of vertical solutions have a specific application where space is tight and the conversion of existing locations is not always suited to any other form of containment.
Varying configurations of this product are available which provide basic presentation of the dialysis media panels only or, the combined scope of every bedhead service. Specifically developed for the containment of RO system pipework and associated waste disposal. There is no limitation to configuration such is the product flexibility.
Designed to suit a custom application from a core product range, RO-V is manufactured to an uncompromising standard catering for the individual needs of dialysis positions in every type of healthcare environment. Products can be specified in a variety of colours and configurations with more than 360 shades or hues available from our standard range.
This product can be supplied fully pre-assembled, pre-wired or pre-gassed, tested and certified to ISO 11197, HTM & HBN recommendations, CIBSE (SLL) LG2:2008 as well as BS 7671 (inc Corrigendum's) to offer fundamental cost savings and overall programme benefits.
Each CABLEFLOW Medical Supply unit is manufactured to the highest standards and to a quality expected of a British manufacturer from across a broad and universally applicable product range. The inclusion of third party nurse call systems into our bedhead services units ensures continuum of infrastructure yet opportunity to use the most up to date containment solutions and remains a key feature of our offering.
Cableflow RO-V – Vertical Medical Trunking features:
Accommodates all commercially available Nurse Call Systems.
Accommodates various styles and types of Media Panels from the leading RO water system providers.
Outstanding Flexibility.
Can be supplied fully pre-wired and pre-piped.
Adjustable Lighting Arm Available.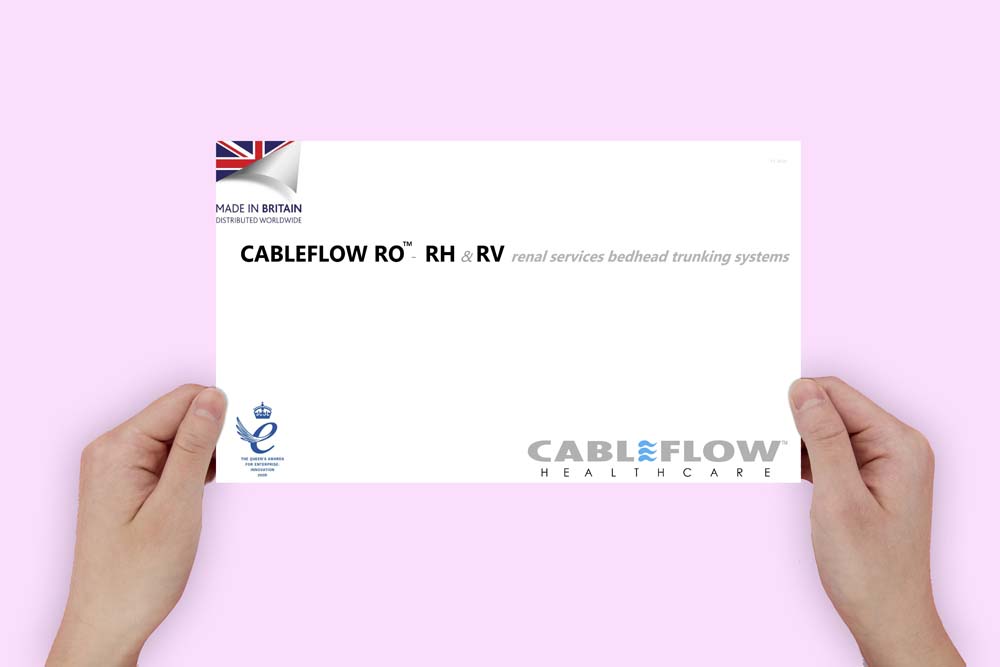 Cableflow Renal RO-V Product Brochure:
Download product brochure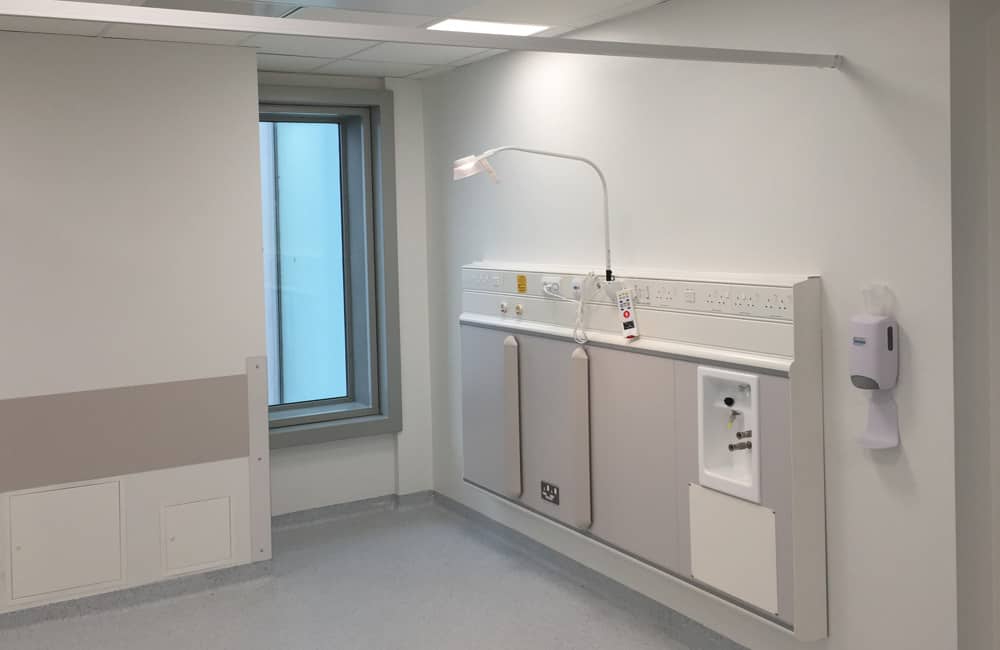 Dialysis Centre at Beaumont Hospital
Providing essential haemodialysis and plasmapheresis services across multiple locations, these centres serve approximately 30,000 treatments annually. The project here included the supply of Medical Trunking, Medical Lighting and Patient Entertainment.
Read full project review
Contact us to learn more about Cableflow Renal RO-V and request a complimentary design and project cost consultation.