A bedhead services solution for almost any location in an acute healthcare environment.
A vertical solution, designed for flexibility and adaptability.
SOLO is available in a variety of widths and configurations to suit any application.
The integration of a high quality central laminate facia allows for design integration using colour or décor finishes from a wide range of options.
SOLO presents a compact design with the ability to carry, locate and support the plethora of equipment required in all in-patient areas from triage to bedrooms, anaesthesia to HDU and all areas in between.
SOLO provides varying quantities of mains power, nurse call, data/patient monitoring, lighting control, patient entertainment, over bed lighting integration, bedhead buffers, medical equipment rail, IV post support and medical gases in a multifunctional linear enclosure, and all fully compliant with ISO 11197.
This product can be supplied fully pre-assembled, pre-wired or pre-gassed, tested and certified to ISO 11197, HTM & HBN recommendations, CIBSE (SLL) LG2:2008 as well as BS 7671 (inc Corrigendum's) to offer fundamental cost savings and overall programme benefits.
Each CABLEFLOW Medical Supply unit is manufactured to the highest standards and to a quality expected of a British manufacturer from across a broad and universally applicable product range. The inclusion of third party nurse call systems into our bedhead services units ensures continuum of infrastructure yet opportunity to use the most up to date containment solutions and remains a key feature of our offering.
Cableflow SOLO – Vertical Medical Trunking features:
Simply fed from the ceiling.
Available with co-ordinated décor.
Where necessary wider version can be constructed.
Accommodates all commercially available Nurse Call Systems.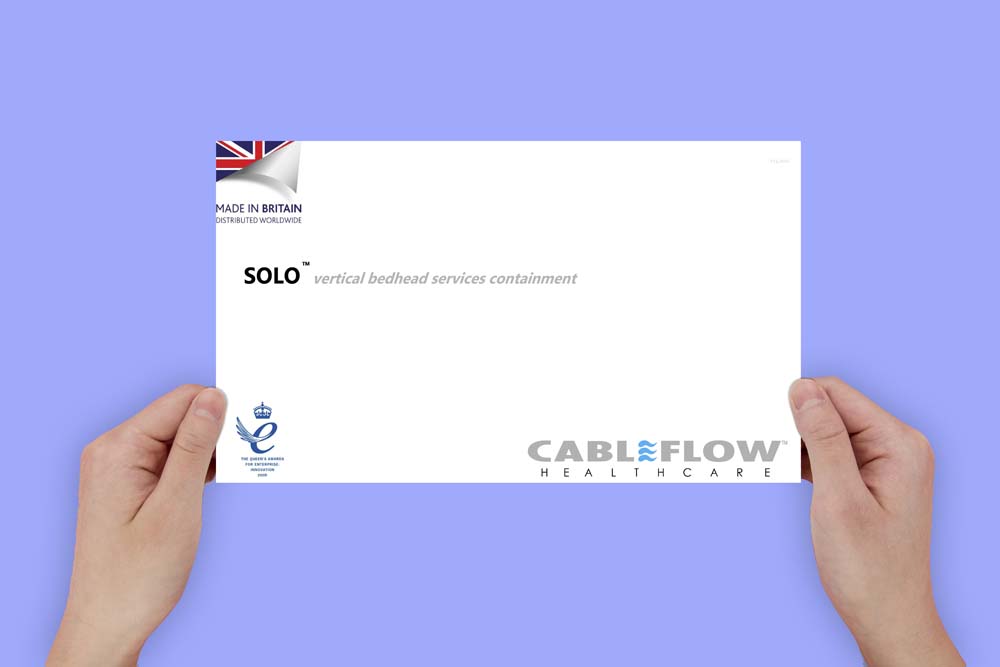 Cableflow Solo Product Brochure:
Download product brochure
Contact us to learn more about Cableflow Solo and request a complimentary design and project cost consultation.