PoE Analog Synchronised Clocks
Effective Time Management for Healthcare with PoE Analog Synchronised Clocks
Available in a variety of colours, sizes, dial options and bespoke branding.
Versatility and a reputation for durability have made our PoE analog clocks the go-to time synchronized clock for schools, hospitals and businesses
Available in a variety of colors, sizes and dial options, including custom dials with your facility name or logo.
Our Traditional series PoE synchronized clocks feature easy-to-read dials and durable thermoplastic frames and lenses, making them ideal for any facility.
OneVue PoE Clocks are delivered preconfigured, ready to quickly access your existing network. Simply take the clocks out of the box, connect to PoE power, and hang them on the wall.
PoE Analog Clock Features:
Durable thermoplastic frames and lenses.
Automatically adjust for Daylight Saving Time.
Synchronize via PoE / IP technology.
Power Source – Power over Ethernet (PoE).
Add an organization's name or logo to each clock face.
Includes a bracket, mounting plate and hardware to easily assemble and install two 12.5" (31.8cm) Traditional series frame clocks back to back.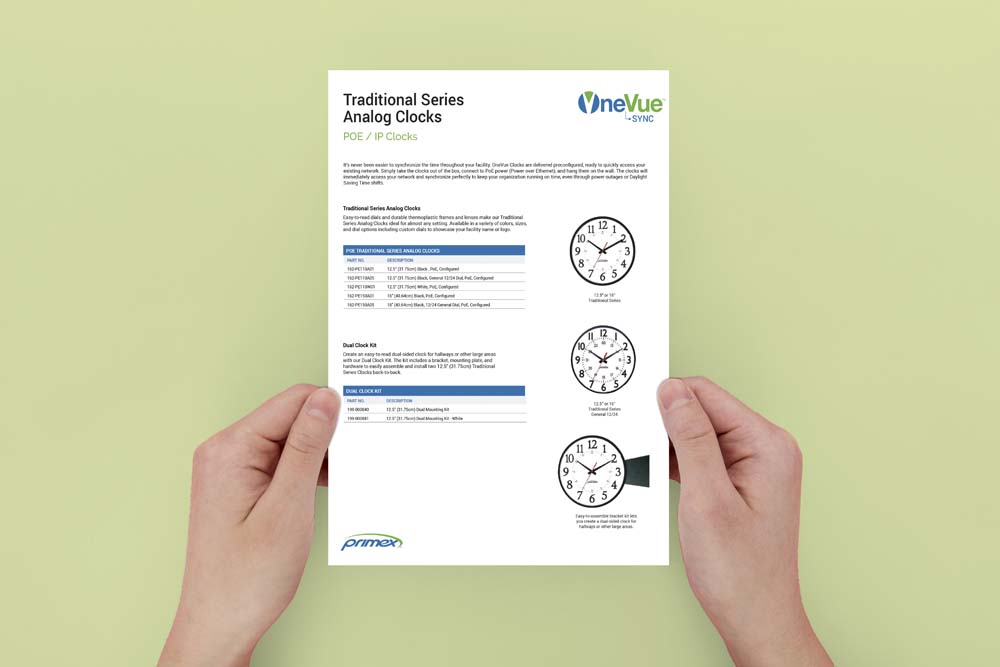 Synchronised Clocks Brochure:
Download product brochure
Contact us to learn more about PoE Analog Synchronised Clocks and request a complimentary design and project cost consultation.