Cableflow Wave Bedhead Luminaire
The WAVE produces the lowest level of light intensity of any healthcare uplighter. 
This enhances the patient experience and increases the energy efficiency of the luminaire.
Since its launch the success WAVE as a healthcare in-patient luminaire follows our award winning Integra hospital lighting systems and demonstrates that in-patient room lighting in healthcare facilities requires specific attention to detail. The WAVE has evolved from that experience and understanding of the unique and specific demands that healthcare environments place upon luminaires.
The WAVE epitomises distinguished luminaire design
In-patient accommodation, where the relentless environment calls for luminaires to deliver efficient lighting in the clinical workspace whilst enhancing clinical function also requires energy efficient solutions and The WAVE meets all of these objectives in a delicately flowing design concept.
The WAVE is unique. No other luminaire on the market can achieve a light output to the same proportions whilst emitting the lowest level of viewed luminance (luminous intensity) to date from a compliant healthcare uplighter. Subject to LG2 factors, The WAVE can illuminate an entire patient bedroom without the need for additional room luminaires and thus reduces the number of fittings required, resulting in reduced power consumption and reduced luminaire expenditure.
Supplied Fully Pre-assembled and Pre-wired
This product is supplied fully pre-assembled and pre-wired with options for TL5 (standard or DALI), or just an LED downlight. It is tested and certified as meeting the constructional recommendations for healthcare luminaires set out in CIBSE (SLL) LG2:2008 and will contribute towards a scheme compliant LG2 as required by HTM 08-03.
Each CABLEFLOW Medical Supply unit is manufactured to the highest standards and to a quality expected of a British manufacturer from across a broad and universally applicable product range. The inclusion of third party nurse call systems into our bedhead services units ensures continuum of infrastructure yet opportunity to use the most up to date containment solutions and remains a key feature of our offering.
Cableflow Wave Bedhead features:
CIBSE (SLL) LG2:2008 Certified.
Contribute towards LG2 by HTM 08-03.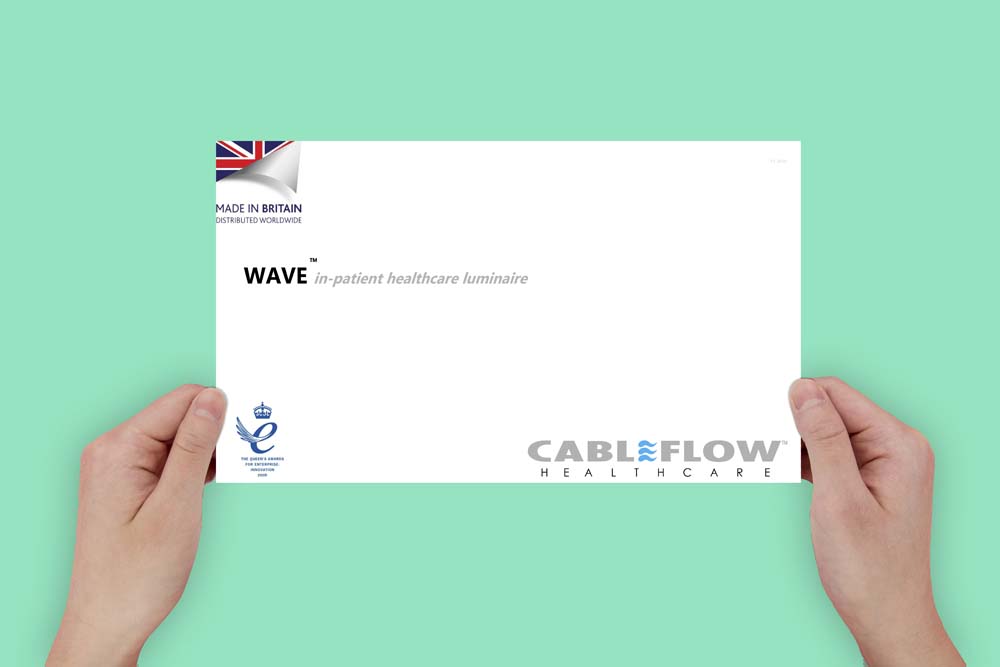 Cableflow Medisys Product Brochure:
Download product brochure
Contact us to learn more about Cableflow Wave Bedhead Luminaire and request a complimentary design and project cost consultation.