Schrack Seconet SecurWATCH
Powered by RFID & GPS Technology.
Reliable Dementia care for vulnerable patients.
Using a combination of RFID and GPS technologies, SecurWATCH is able to safely extend care beyond the physical boundaries of the care facility.
If a patient or resident leaves the premises, the GPs transmitter automatically informs medical staff via the communications system. The position of the patient can be pinpointed to within 3 metres. The patient's position can be displayed on smart phones, mobile systems and within the provider's nurse call systems.
This can be a life saving device for dementia care patients.
Schrack Seconet SecurWATCH Dementia Care features:
New easy to use, failure-proof trnasponder.
Modular structure can be extended.
Exact location determination indoors and outdoors.
Tracking of direction of movement.
More freedom of movement for residents.
Comprehensive and exact documentation options.
Inexpensive solution for receiver units.
Discreet transponders – also available as a wristwatch.
Optional monitoring of vitals funciotns by data links.
Optional movement sensors for epileptics.
Can be integrated into interface of VISOCALL nurse call systems.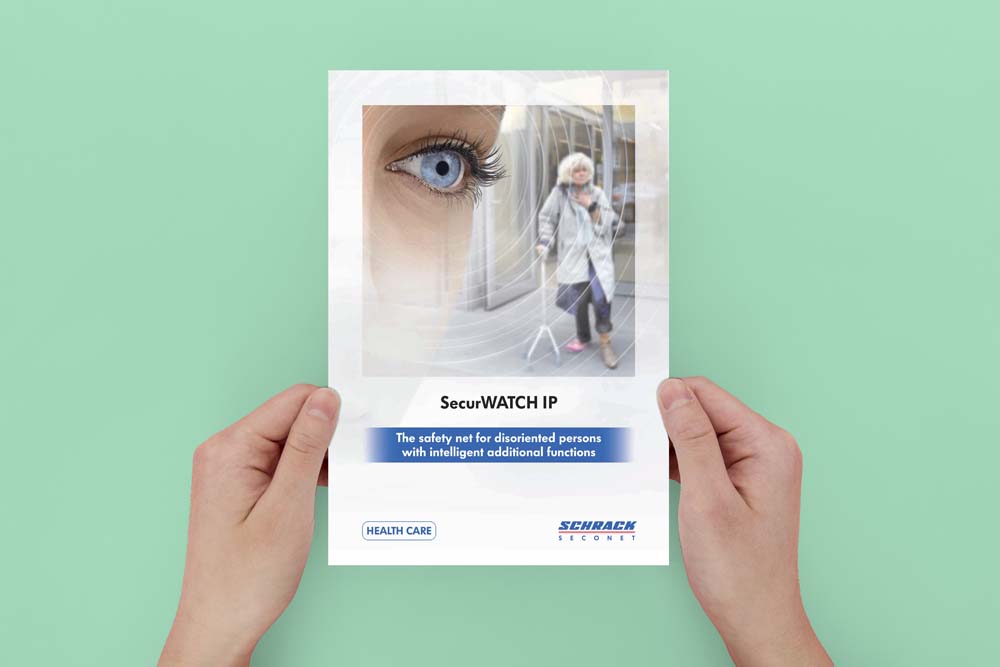 Schrack Seconet SecurWATCH Brochure:
Download product brochure
Contact us to learn more about Schrack Seconet SecurWATCH and request a complimentary design and project cost consultation.