VISOCALL IP Basic is ideal for areas within healthcare that do not require a speech connection.
The highest level of affordable nursecall technology. The VISOCALL IP Basic carries out all important system functions with the reliability of IP technology.
VISOCALL IP basic offers the fundamental nursecall functions with the highest technological level and also satisfies all safety standards in the same way as the high-end versions do. With VISOCALL IP basic, Schrack Seconet has created an affordable entry level version, which guarantees security, ease of use and efficient care.
VISOCALL IP basic can be operated as an independent system or integrated into the VISOCALL IP High-End Platform.
The clear and systematic design of the operating elements is a further advantage of the VISOCALL IP basic. Not only are doctors and care staff assisted by its simple operation, but it is also an enormous relief for patients.
Modern IP technology combines utmost security with low investment costs and also in addition offers long-term technological advantages.
Visocall IP Basic Nurse Call Systems Ireland features:
The remote maintenance and support of the system is unique in Ireland. From the Synergy Medical HQ we monitor all nurse call systems across Ireland down to the component level. 
Remote maintenance results in significant cost savings and enhanced system resilience for our clients. 
Standard network technology proven worldwide
The highest level of security against failure and permanent system availability
Low total investment costs
Auto-disconnecting plugs minimise maintenance costs
Interfaces to other systems – such as DECT, BMZ, pagers, alarm server, etc.
Automatic functional processes
Stress-free operation thanks to a clear and comprehensive interface
VISOCALL IP Basic | Advanced Features:
The highest level of affordable technology
In its basic form the VISOCALL IP carries out all important system functions: Simple and affordable communications islands can be extended or combined at a later to date to form a "High end solution" without any problem. The nursecall system is set up in such a way that IP telephone terminals, a smartcard system, electroacoustic functions, Intranet and Internet for patients and staff members can be integrated at any time. Moreover VISOCALL IP is video streaming ready.
The upstream open standard platform
By using standard network technology, affordable modules and standard cabling, the VISOCALL IP is reasonably priced and simple to install. The decentralized hardware and software concept also plays a considerable role to minimise the levels of servicing required. Systems that have already been installed remain fully operational, with VISOCALL IP's backwards compatibility with all VISOCALL systems safeguarding previous investment.
IP – Proven a million times over
IP (Internet Protocol) forms the foundations for the Internet, and therefore is the mostly widely spread, upstream open technological platform for all communications tasks. With the help of IP, intelligent systems or networks within larger networks can address one another easily, and establish secure connections between each other.
Benefits for management and technicians
The deployment of IP network technology and the use of standard components considerably reduce the installation costs. Only a small number of staff members are needed to operate the system. The permanent self-monitoring of all system modules including their cabling as well as the automatic forwarding of faults to technicians increases the operational security and convenience of the system.
Remote maintenance saves servicing costs
The flexible real-time fault management system and an easy-to-use log management process enable rapid and efficient intervention. The servicing costs are thereby reduced to a minimum. A centralized firmware and configuration upload, the possibility of remote maintenance or remote diagnosis direct to the patient terminal and the plug-in connections ensure decisive cost savings in all modules.
Auto-disconnecting plugs
An example of an intelligent, cost-saving detailed solution: In the event of strain in any direction, the self-disconnecting plugs give in, and pop out of the plug module. This protects connectors, sockets and cables and prevents mechanical damage – for example when the patient bed is moved.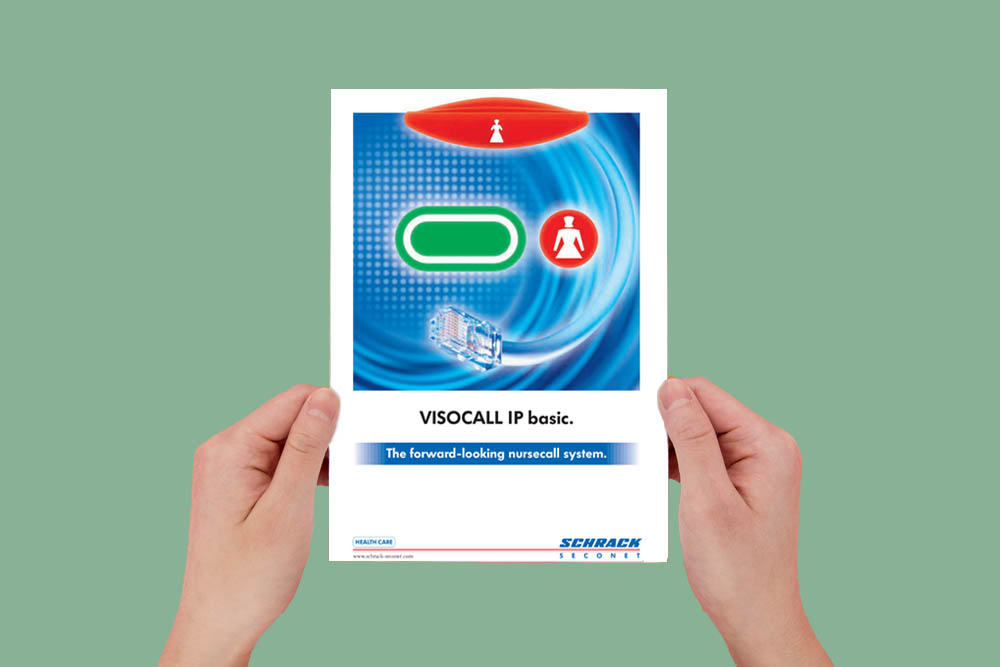 Visocall IP Nurse call systems Product Brochure:
Download product brochure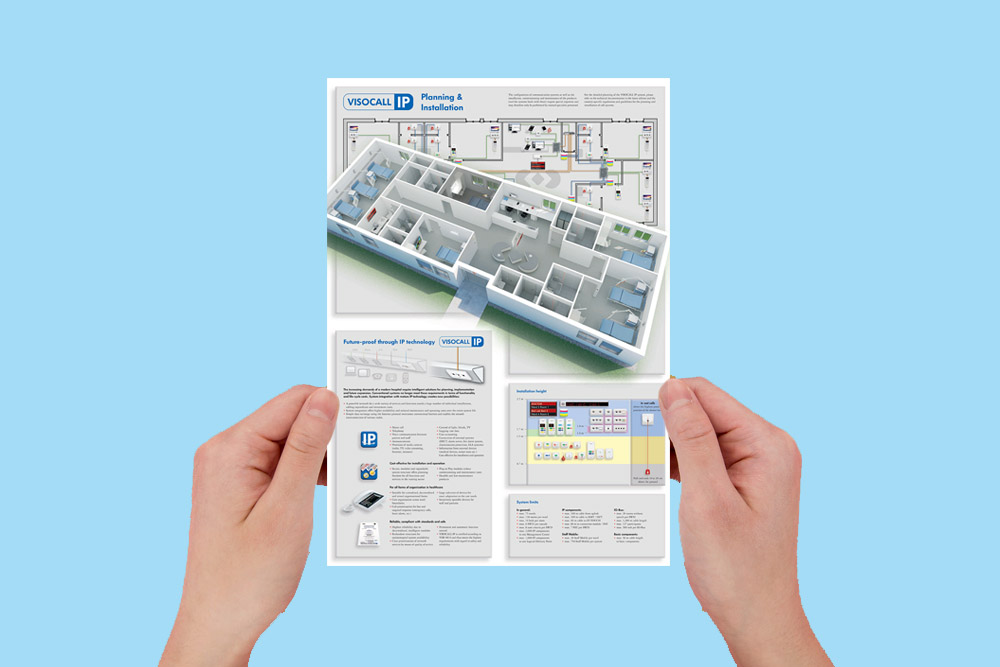 Planning & Installation Guide:
Download product guide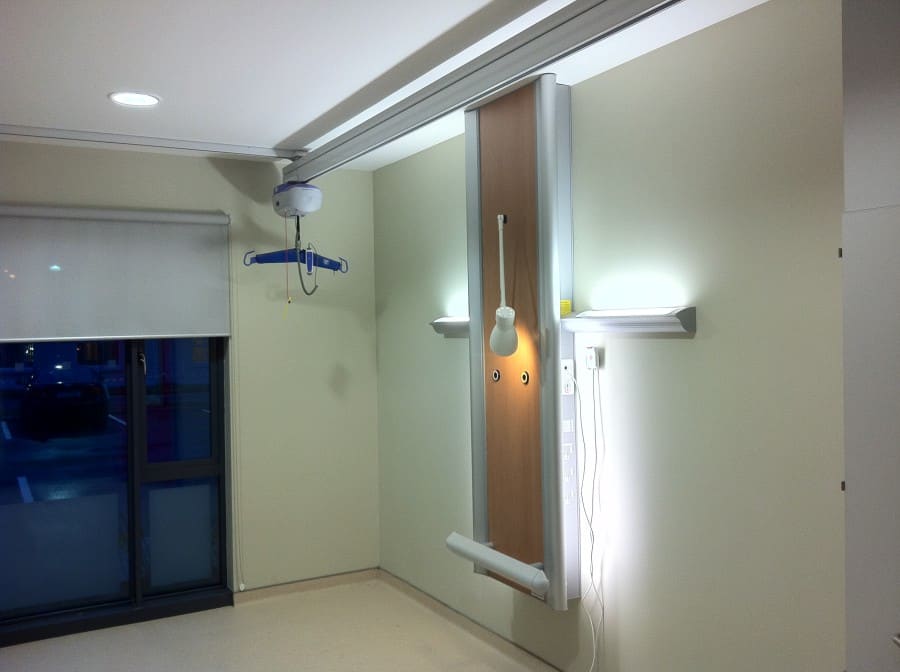 Ennis CNU Case Study
From the outset of the Ennis CNU project there was a clear requirement for the unit to provide first class medical care within a homely and safe environment where the patients could feel completely comfortable in their surroundings.
Read full project review
Contact us to learn more about VISOCALL IP Basic and request a complimentary design and project cost consultation.